Ultrasonic Cleaners, Digitally Controlled with Heater
Ultrasonic Cleaners, Digitally Controlled with Heater are designed with power tracking capabilities to adjust for light or heavy loads, liquid levels and temperature change. They have self-adapting technology that actively tracks the operating frequency of the bath and maintains it at an optimum level. This minimizes the operators dependence. These ultrasonic cleaners deliver unwavering cavitation, steady activity in the bath, even when the load conditions change. The extended degas time period allows for degassing liquids, mixing and homogenization, dissolving solids, cell lysing, and dispersion of particles.
High/Low Power Control: When cleaning delicate parts, this unit allows the user to lower the amplitude of the acoustic energy in the bath: 100% power to the tank for normal applications, 70% power for delicate applications. Manipulating the output waveform in this manner greatly helps to avoid damage to the components in the bath during the ultrasonic process.
Sleep Mode: An energy-saving green feature. When the cycle is complete and no control keys are touched for 15 minutes, the unit goes into sleep mode. Touching any key on the controller causes the unit to come back on.
Programmable: The DTH Series is completely programmable. Once the process is entered into the controller, the end user only has to start the program and they are free to leave the unit on its own to do the job. The programmable process allows the process engineer to choose the temperature set point at which the degassing and ultrasonic time periods are triggered to begin. Once the ultrasonic run time period is reached, the unit shuts off, delivering the same results – every time.
99 minute digital timer and continuous ultrasonic operation

40 KHz rugged industrial transducers

M1800DT and M2800DT have built-in pour drains; M3800DT, M5800DT and M8800DT have tank drains with valves.

Degassing period can be set up to 99 minutes.
DTH series has high-temp safety alarm indicator for unit overheating
Applications:
Automotive, Dental Offices, Electronic Assembly, Hospitals, Jewelry Manufacturing, Laboratories & Medical Facilities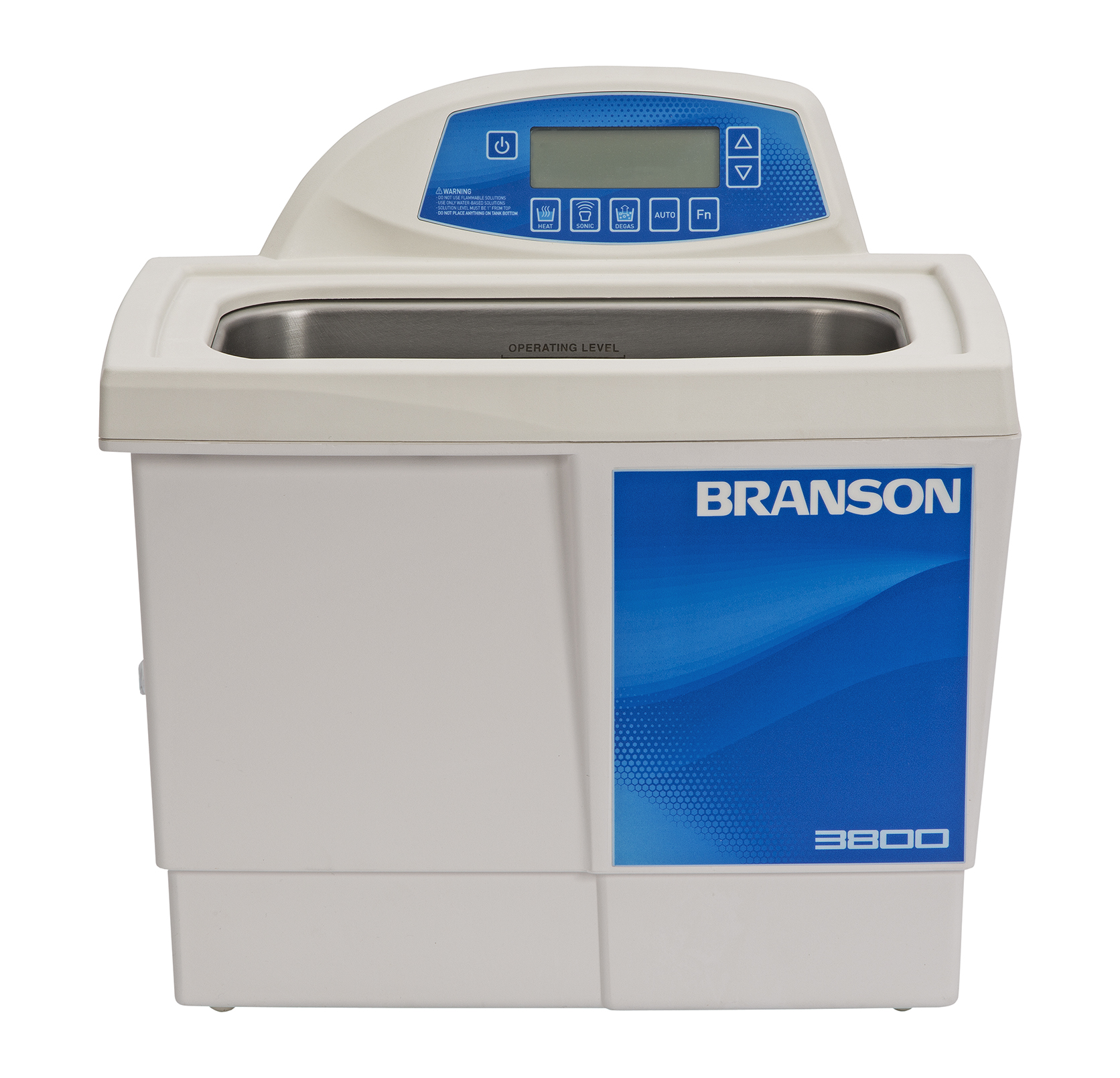 General Purpose Ultrasonic Cleaners with Heater, Digitally Controlled, 120V
General Purpose Ultrasonic Cleaners with Heater, Digitally Controlled, 230/240V
Specifications for 120V/230V/240V Ultrasonic Cleaners
Part Number
Power (Watts)
Tank Capacity
(LxWxD) in inches
Overall Size
(LxWxD) in inches
Weight(lbs.)
M1800DTH/DTH-E
80
6 x 5.5 x 4
9.9 x 12 x 11.9
7
M2800DTH/DTH-E
130
9.5 x 5.5 x 4
13.3 x 12 x 11.9
9
M3800DTH/DTH-E
130
11.5 x 6 x 6
15.6 x 12.5 x 14.8
12
M5800DTH/DTH-E
185
11.5 x 9.5 x 6
15.6 x 15.8 x 14.9
14
M8800DTH/DTH-E
320
19.5 x 11.5 x 6
23.5 x 18.3 x 15.4
26